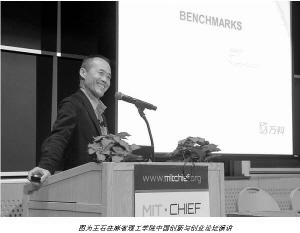 "At this stage, the effectiveness of the property market regulation and control is in sight, and this situation can be continuously controlled for three years. China's real estate will be a soft landing." Recently, Wang Shi explained the original intention of the study tour and the support for macro-policy control at the MIT China Innovation and Entrepreneurship Forum. . Wang Shiyuan planned to study in three years, one year at Harvard, the second at the London School of Economics, and the third year at Jerusalem and Istanbul for six months. After just finding the feeling, he decided to extend his year of study at Harvard.
"Raise both hands in favor of regulation and control"
Talking about the current macro-policy on the regulation of the real estate market, Wang Shi said, "Heave both hands in favor." He believes that the current Chinese real estate market bubble is very large, but China does not have the ability of Japan after the bubble burst. In addition, as a stakeholder, once the bubble bursts, large real estate developers bear the brunt of it.
"We would rather miss the opportunity and not take the king."
Wang Shi said that in the process of rising bubbles, he has always done the mainstream market and rigid demand, and insisted that he would rather miss the opportunity and not take the land king. In October and November this year, auctions of land in several major cities ended in failure. In some auctions, no one offered a bid. Others had a very low bid. According to SouFun data, the country's land turnover fell by 37% in October. Declining sales and land prices mean that some former "land kings" may be in trouble.
"Regulation for three years, real estate will be a soft landing."
Wang Shi said in his speech that the real estate bubble phenomenon and inflation are only superficial phenomena, reflecting the unsustainability of high energy and inefficient economic growth. The purpose of the two-year regulation and control policy is to allow real estate to gradually return to the rational price level from the highest position. "At this stage, the effectiveness of the property market regulation and control is in place. Such a situation can be continuously controlled for three years and China's real estate will be a soft landing."
Recently, Vanke's real estate prices in Shanghai dropped by nearly 30%, causing an uproar. Wan Liang, president of Vanke, said in an interview with the media that China Vanke entered the "winter model" in 2012. First, it showed that the cash flow was sufficient. It was necessary to promote sales more actively, to take more cautiously, and to increase revenue and reduce expenditure.
"I didn't listen to a class at the business school."
He admitted to Harvard that it was not a technical aspect. "I didn't listen to a class in the business school." Instead, he chose to listen to more religious classes and the history of capitalist ideas to understand how religion affects capitalist thinking. In Wang Shi's view, the modern enterprise system originated from Western civilization. "You can't believe it, but you can't understand it. You can't understand it."
Wang Shi has twice climbed Everest and the highest peak of the seven continents. He has walked on the poles and poles of Vietnam and is still the holder of China's paragliding climb record. "Harvard has a much better environment than mountaineering, with plenty of oxygen and easy communication of information," but he admitted that Harvard's study was harder than he had imagined.
Wang Shi, who just found the feeling, decided to extend his study at Harvard for one year.
"Can be ignored regardless of certainty"
A few years away, how did Wang Shi manage the company as chairman of Vanke Group? "You can't care about it, you can't care about it." Wang Shi said that his corporate management is to prove that Vanke can rely on the system and the team can do a good job. He laughed: "Leaving your earth can only be better, not worse." "If people live with dignity, they can choose what they want to do. Competent people do what they want to do, and they must help those who cannot do what they can do. This is a person's value, not your own ability. It doesn't matter how big you are, and whether you become the richest or the richest.
Wang Shi said that before coming to Harvard, he used only one-tenth of the time to manage the company and nine-tenths of the time was used for mountaineering.
"Now there is no role model to learn"
In his speech, Wang Shi mentioned that Sony, Sun Hung Kai Properties, and Pulte Homes, the largest real estate company in the United States, are all sources of Vanke's model study. He proposed a set of data: Vanke is now starting 30 million square meters, 300,000 units, and this year delivered nearly 100,000 units. In the United States, 300,000 units are delivered each year. The sales of the top five residential development companies in the United States do not add up to half as much as Vanke.
"We do not have an example to learn now. What we do every day is innovation." Wang Shi believes that innovation is a gesture and learning itself is an innovation. However, he does not refer to the popularity of Shanzhai Edition, but rather draws on the spirit and experience of his predecessors.
Pan Shiyi: It is already landing.
Did you not feel in Boston?
For Wang Shi's "Three Years Landing", Pan Shiyi, chairman of SOHO China, responded at Weibo and said, "What did you say about the 'soft landing' has landed. Didn't you feel it in Boston?"
Statistics from the National Bureau of Statistics show that the prices of housing prices in 70 index cities have dropped for the first time in several years in October, and the rate of reduction has reached 0.14%. In the case of new residential buildings, compared with the previous month, of the 70 large and medium-sized cities in October, 34 had fallen in price, and 20 in flat cities.
Discover where teaching abroad can take you. You dream job is out there, We're here to help you get it .
English Teacher Jobs,Online Esl Teaching Jobs,Teach Kids English Online,Teach English To Students
Shanghai Careersec Cultural Exchange co. LTD , https://www.careersechr.com