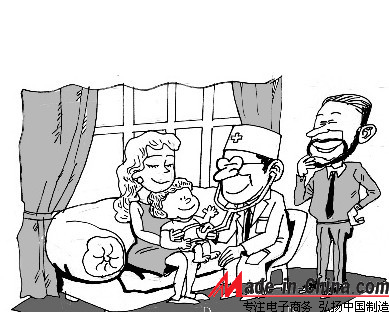 The Yangzi Evening News reported that since 2012, one-third of the urban community health service centers in Jiangsu province have launched the "contract system" family doctor system. Each family doctor signs up for about 200 families, and the family doctor's mobile phone number will be announced to the residents so that they can easily access the service at any time.
family doctor

China: Family doctors are personal doctors who are new doctors who provide comprehensive, continuous, effective, timely and personalized healthcare services and care for clients.
United States: A family doctor is a family or group health maintainer who can provide long-term services such as health consultation, preventive health care, medical rehabilitation and diagnosis and treatment of common diseases, and actively follow-up observations for chronic patients and rehabilitation patients.
United Kingdom: Family doctors are the main providers of state primary health care services. The community health services they undertake include: primary health care, health promotion, chronic disease management, immunization, cervical examination, and anesthesia.
Development status

Since 1997, China has promoted general medical services, encouraged doctors and nurses to take the initiative out of the hospital gates, and established contracted family health services with residents. Shenzhen, Beijing, Shanghai, Nanjing and other major cities have tried to implement the "family doctor" system.
Shenzhen: In August 2009, the municipal health department promulgated the "Shenzhen Implementing the Pilot Work Program for the Family Doctor Responsibility System Project", taking the family doctor as the main body of responsibility, the community health service center as the technical support, and the community residents and their family's health management as their work. Content and establishment of a contractual relationship as a new type of healthcare service model.
Beijing: In September 2010, the Community Management Center of the Tongzhou District Health Department of Beijing Municipality fully publicized and promoted family doctor-style service at 19 community health service centers in the region. A total of 480 doctors, nurses, and defense personnel were organized to form 127 teams. The community health service team has established family doctor service relationships with nearly 570 households in 570 village committees and community neighborhood committees.
Shanghai: In October 2010, Shanghai fully implemented the establishment of a family doctor system, gradually implemented the first diagnosis system for family doctors, and explored the medical insurance payment mechanism based on service population. Through the establishment of family doctors' system, every household can receive remote expert referral and consultation at home, as well as regular fixed-point personalized health guidance.
Provide services

1. Build health records, conduct health assessments, and develop personalized health plans;
2. Targeted provision of health education and health promotion services;
3. Provide services such as vaccination for children aged 0-6 years;
4. Provide maternal health management during pregnancy and childbirth, and provide women with childbearing age with advice and guidance on health knowledge such as eugenics;
5. Provide medical examinations, health guidance and other services for the elderly over the age of 65.
6, provide regular follow-up, medication guidance, health education and health check-up services for chronic diseases such as hypertension, type 2 diabetes;
7. Provide follow-up and rehabilitation guidance services for patients with severe mental illness in the home;
8. Provide preventive guidance for close contacts of infectious diseases observed by home medicine and those exposed to health hazards;
9. In order to find problems in health management, give timely medical advice or referral advice;
10. Give priority to contracted residents to provide tertiary hospitals with appointments for medical treatment and two-way referral services;
11. Provide visits for home visits, family visits, home care, family beds and other services for contract residents who have limited mobility and who need them.
12. According to the needs of community residents, carry out other appropriate basic medical and health services.
Sea Freight to the Americas
Currently we mainly focus on handling the shipment from the ports of Shantou/ Shenzhen/ Guangzhou/ Xiamen/ Shanghai/ Ningbo/ Chongqing to the other ports abroad. As below, you can find the appropriate services that you need.
· Import/ Export shipping services
· Local Logistics
· Warehousing Arrangements and Customs Clearance
· Packing and Transport Insurance
· Air Freight
· Sea Freight
· Door to Door Service
· LCL Consolidation
· Transport , Inland Haulage
· Packing , Crating & Packing Materials
· Customs Clearing & Cross Trade
· Project Cargo
. Insurance

Major service areas: Shantou/ Chenghai /Chaoyang /Chaozhou/Jieyang
Major product scope: Ceramics/Sanitaryware/Toys/Hardware/Clothing/Mechanics/Food/Stainless steel, etc.
If your clients have the purchase orders from the above areas, we are your best choice.

Let's achieve a win-win outcome.

Shipping to the North America, South America Shipping Schedule, Americas Shipping Port, Cruises to the North America, Cruises to the South America, Cruises to Canada
Shantou Yi Tong International Freight Forwarding Co.,Ltd , https://www.shantoulogistics.com