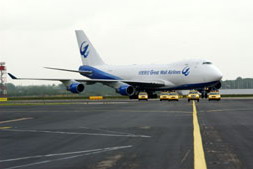 Photo: Amsterdam Airport Schiphol (provided by Schiphol Airport)
Schiphol Airport, which actively promotes the "China Strategy", hopes to strengthen the "European Gateway" of the airport by establishing a European distribution center or regional headquarters in the "China Business Center", which is being built by the Chinese merchants, by virtue of its geographical proximity to the Port of Rotterdam. "The market position."
Wei Boming, executive vice chairman and chief financial officer of Schiphol Group, the third largest cargo airport in Europe and the fourth largest passenger airport, recently accepted an exclusive interview with this reporter. Wei Boming pointed out that China has become a major engine for the Group's business growth, and Schiphol has made China one of the key markets for developing customers and strategic investments.
Wei Boming said that in order to increase the development of the Chinese market, in the past two years, Schiphol has taken a series of powerful measures: opening a Chinese webpage, providing Chinese descriptions and maps at the airport, and providing Chinese-speaking service personnel; frequent marketing staff Going to China for high-intensity customer promotions; the names of Schiphol and its resident airline, KLM Royal Dutch Airlines, are frequently seen in various Dutch promotional events in China. Under these "offensives", passenger and cargo flights between Schiphol Airport and China increased rapidly.
In February of this year, Schiphol signed the largest contract ever to cooperate with China: in cooperation with Chinamex, the developer of China's business center, to build a large "China Business Center" with an area of ​​100,000 square meters near Schiphol Airport. The new building of the center is expected to be completed in three years, when more than 1,500 Chinese companies will be settled here. In addition to the company office, the building will also be equipped with government-related government agencies, banks, customs offices, and catering and leisure facilities. Wei Boming said: "We want to provide a one-stop service for Chinese businesses: all the procedures required to open a company in the Netherlands, including company registration, tax arrangements, application for work permits, etc., can be completed here."
Under the rapid development of China's economic situation, Schiphol expects that the new passenger and cargo flow brought by the "China Business Center" and the related logistics and service industry development will generate various incomes of 3 billion euros per year for the airport area. 1 euro is about 1.32 US dollars). This is undoubtedly a great way to provide power for Schiphol's medium and long-term development.
In terms of cooperation with Chinese airports, Schiphol also made some gains. Recently, Schiphol and Guangzhou Baiyun Airport have reached a cooperation intention to participate in the retail and real estate business of Baiyun Airport. Wei Boming will go to Guangzhou to sign the relevant agreement in a few weeks. At present, Schiphol Airport is in contact with Beijing Capital Airport to discuss the establishment of a long-term cooperative relationship with the latter as a strategic investor. In addition, Schiphol is also actively engaging with other Chinese airports. Wei Boming said: "We hope to become a strategic partner of China's airports, not just small partners who subcontract some businesses."
Wei Boming said that Schiphol has been rated as the best airport in the world or Europe for many times, directly or indirectly providing 80,000 jobs. Last year's profit was close to 200 million euros, which can provide some advanced management experience for China. In addition, the establishment of a strategic alliance between China Airport and Schiphol can effectively promote trade between China and Europe.
Background link: Busy Schiphol Airport
Located 15 km southwest of Amsterdam, the capital of the Netherlands, Schiphol Airport is the third largest cargo airport in Europe and the fourth largest passenger airport. Many of the air cargoes that travel between Europe and the rest of the world are transited here.
In recent years, with the rapid economic development of China and the increase in economic and trade exchanges between China and Europe, Schiphol's business with China has grown rapidly. At present, Hong Kong and Shanghai are the first and second largest cargo ports in Schiphol. Last year, Schiphol Airport and Shanghai's freight traffic increased by 44% year-on-year to 98,000 tons. During the same period, passenger traffic to and from China increased by 10% compared with the previous year, reaching 860,000 passengers, which ranked second in the passenger traffic outside of Schiphol Europe, second only to the United States.
In addition, two of the eight airlines that settled in Schiphol in 2006 were two Chinese-owned freight companies.
0 recommended list
("Economic Information Daily", /* <![CDATA[*/ CPLM.Report.print("reprint"); /*]]> */ )