[May Point Network] The global financial tsunami in 2009 brought heavy losses to all walks of life, and the blow to the car rental industry was also very heavy. People don't dare to spend their pockets, or invest in real estate, gold...
[May Point Network] In 2009, the global financial tsunami brought heavy losses to all walks of life, and the blow to the car rental industry was also very heavy. People do not dare to consume their pockets, or invest in real estate, metal currency, etc. to obtain value, and the number of customers who travel and travel on business is reduced accordingly. However, the good news is that China's car rental industry has achieved breakthrough development in this crisis. A number of car rental companies and platforms with rich Chinese characteristics, such as car rental, supreme car rental, and Tongcheng.com, have emerged, injecting fresh blood into the chaotic car rental industry. What changes have occurred in the car rental market in 2009, and how the car rental market will develop in 2010 is a common concern.
1. Self-driving tour
If you are still hesitating to save time by car or drive more freely, then you may choose to travel by "landing by car", that is, you will get off the plane and rent a car to drive. In 2009, due to the fluctuation of international oil prices and the change in ticket prices, this approach will once again attract attention. Because in the economic downturn, people's willingness to buy such assets has dropped, but they will be willing to buy services, and renting a car will become suitable. In addition, both international and domestic oil prices have dropped significantly, and ticket prices have also declined, which has saved the cost of aircraft + car rental travel. In the past two years, the way of self-driving tour has been accepted by more Chinese people, and the service of car rental has become more and more detailed. The trend of "landing by car" is more obvious in 2009 than before.
2. Establishment of anti-automobile fraud police room
Any new things will have their difficult exploration process. At present, there are three legal gullies in the car rental industry forum: fraudulent sales, car accidents, and fines. In particular, the rate of car fraud cases is high, causing huge losses to countless car owners and leasing companies. To this end, following the establishment of the first anti-vehicle fraud police office in Xi'an, some cities in China began to follow this model, strictly register all the car rental personnel, and at the same time establish a credit file to build an integrity information network within the car rental industry. .
3. Chain business model
The leading players in the chain business model of "One Car Rental" and "Supreme Car Rental" have injected new energy into the car rental industry. Its "five unifications" and "four transformations" have created a rapid replication and success of chain operations, five unified and unified business concepts, unified image recognition, unified product services, unified management, unified expansion and penetration. "Fourizations" means standardization, specialization, simplification and uniqueness. Different places and pick-ups require car rental companies to quickly establish and improve the national chain business model. At the same time, the "Master Key" car rental system was launched. The entire car rental process can be easily completed only through the network or mobile phone, without waiting, greatly simplifying the traditional complicated car rental program.
4. B2B2C's advanced e-commerce platform model
Recently, the well-known domestic travel network platform Tongcheng.com announced that it has entered the car rental market, which has undoubtedly brought new hopes to many car rental companies that are struggling to find out. Tongcheng.com still uses the B2B2C model to integrate resources and provide services to customers. At the same time, with its fast-growing hotels, air tickets, scenic spot tickets and other businesses, combined with car rental projects, determined to create a one-stop travel website.
The rental car market in 2009 is a booming year. In the face of so many development directions, car rental companies should carefully consider their 2010 plans, how to establish their own core competitive advantages, and prevent counterfeiting of other followers. Looking at the entire economic market, the development of a good enterprise cannot be copied or imitated. How to achieve it in the industry will never be eliminated and replaced. It is necessary to establish technical barriers and brand barriers at the beginning. Mode barriers work hard to keep followers behind. At the China Car Rental Development Forum, which was just completed recently, the relevant person in charge of the car express car hired said that as long as the e-commerce platform model with Chinese characteristics, online booking and telephone booking is complementary, it will succeed. In general, the future of China's car rental industry is both opportunities and challenges. How to balance the risks and crises in this and grasp the business opportunities in a timely manner, we must conduct research and discussion from many aspects.
Value:
1. GTO Database has no limitation on products and country searching.
2. GTO database will be available for more than thirty countries, details as the following table.
3. GTO database is easy for any Report generating.
4. GTO database can be searching according to company name, product description, hs code and so on.
5. GTO database are available for both English and Chinese version, in the furture will also available for German and Spanish.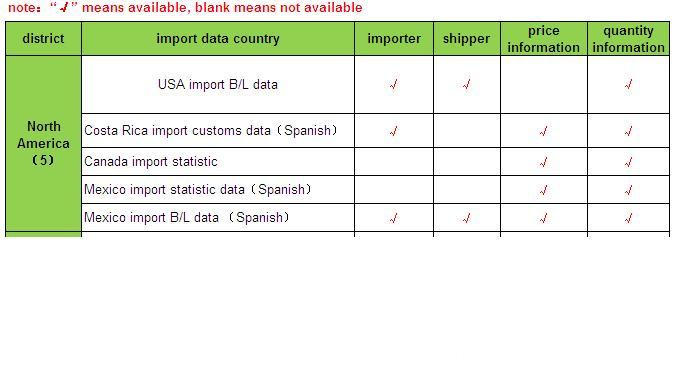 North America Import Export Data,Us Trade Data By HS Code,United States Customs Data
Global Trade Online Limited , https://www.gtodata.com