From the point of view of e-commerce web search hotspots, B2C websites with little market share seem to have become the focus of public interest all of the time. The reason is that first, the hot online shopping transaction will inevitably generate huge network business opportunities and attract many The website emulates a B2C website such as Jingdong Mall, which provides netizens with the most cost-effective goods and services. Second, it only focuses on Taobao and pats the success of domestic large-scale C2C shopping websites. It hopes to create a banner in a certain area.

According to the latest data released by iResearch, there is indeed room for development in the B2C field, and it also accounts for 28.7% of the total B2C transaction share. However, it should also be noted that there is room for development and it does not mean that it is easy to draw a share from it. The B2C mall online shopping transaction built on top of C2C has almost carved out the entire online shopping market, among which Taobao is the only one.

Looking at the development status of e-commerce transactions again, 2011Q1 China's e-commerce market has an overall transaction volume of 1.5 trillion yuan. The growth rate was 7.6% from the previous quarter, and the growth rate was down from the previous quarter, which was mainly due to seasonal factors. The first quarter was the traditional low season for domestic and foreign trade and personal consumption industries. Judging from the market structure, E-commerce among enterprises is still the main body of the E-commerce market, among which SMEs account for 49.2% of B2B transactions. It can be said that the B2B model is still the mainstream of e-commerce. For a long period of time, this mainstream model will not undergo major changes. The rise of models such as B2C/B2M will not have a big impact. Because companies are the driving force behind B2B growth. China has more than 10 million companies, large and small, and has taken the top priority in e-commerce. It is still dominated by the B2B model. The business opportunities are also attractive to companies.

Of course, referring to B2B, Alibaba continues to maintain its monopolistic advantage in China's B2B e-commerce market, accounting for 59.5% of the market share, domestic and international markets have contributed stable income; in addition to traditional integrated B2B e-commerce companies In addition, the rest of the market share will be dominated by one call (.com), which is determined by the development potential of a professional B2B business search.

With the development of B2B e-commerce in China and the improvement of SMEs' ​​understanding of e-commerce, in the future, the degree to which SMEs will rely on e-commerce will increase. This is undoubtedly an excellent opportunity for development. For one-on-one response, we must seize the needs of SMEs and make full use of our resources to actively adopt effective measures to improve the quality of services to attract our target users so as to stabilize our development. Through market research and analysis, one-half and one-hundred and forehead market leaders believe that in the future China's B2B e-commerce market will enter a more intense stage of competition, and there will be three camps in the B2B industry alone. One is Alibaba's trade portal, and the other is global. The traditional B2B website with internal and external resources, and the professional B2B business search engine that is independently developed by the call center.

Through data analysis, it is found that in the future, China's B2B e-commerce is still likely to develop in three directions:

First, as the macroeconomic continues to pick up and the confidence of small and medium-sized enterprises increases, the awareness of the use of e-commerce by SMEs will gradually increase. SMEs are most likely to choose B2B e-commerce because this will completely change the survival and development of the enterprise, and increase the chance of using third-party e-commerce platforms to trade.

Second, under the existing integrated platform, a large number of B2B e-commerce companies have emerged in the new model and focus on new industries. With the emergence of a large number of emerging companies, China's B2B e-commerce market will show a variety of development trends.

Third, with the rapid development of online trading platforms, China's B2B e-commerce will also gradually develop toward the deepening of services.

These development trends will undoubtedly produce more powerful impetus to B2B e-commerce. They should apply the concept of "service first, effect is king" and professional SME procurement information retrieval, and combine the possible development trends mentioned above. While increasing the performance of the platform system, it is more focused on B2B to bring more solid results to SMEs. Focusing on B2B can better reflect the overall trend of China's e-commerce development.
Value:
1. GTO Database has no limitation on products and country searching.
2. GTO database will be available for more than thirty countries, details as the following table.
3. GTO database is easy for any Report generating.
4. GTO database can be searching according to company name, product description, hs code and so on.
5. GTO database are available for both English and Chinese version, in the furture will also available for German and Spanish.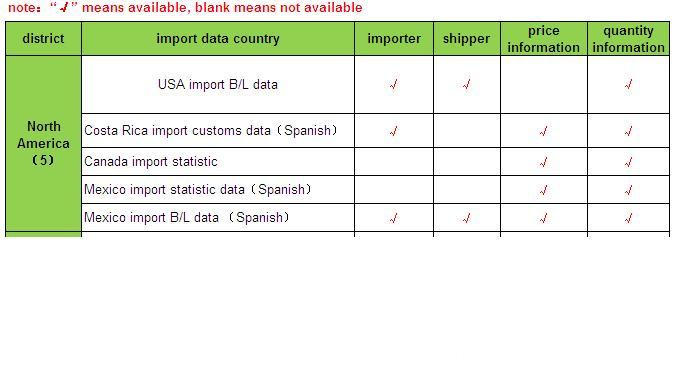 North America Import Export Data,Us Trade Data By HS Code,United States Customs Data
Global Trade Online Limited , https://www.gtodata.com